FOR MORE EVENT INFORMATION GO TO "NEWS" AND "FLORIDA VFW EVENTS AND NEWS" DROP DOWN
___________________________________________________________________
2022 VFW DEPARTMENT OF FLORIDA STATE CONVENTION RENAISSANCE ORLANDO @ SEAWORLD JUNE 16TH - JUNE 19TH
____________________________________________________________________________
DEPARTMENT OF FLORIDA LEADERSHIP SCHOOL OF INSTRUCTION FOR NEW POST COMMANDERS AND DISTRICT COMMANDERS JUNE 3RD
2022 QUARTERMASTER/TRUSTEE & DEPUTY INSPECTORS SCHOOL OF INSTRUCTION SATURDAY, JUNE 4TH
__________________________________________________________________________________
2022-2023 SERVICE OFFICER SCHOOL AUGUST 5TH
VFW DEPARTMENT OF FLORIDA SCHOOL OF INSTRUCTION AUGUST 6TH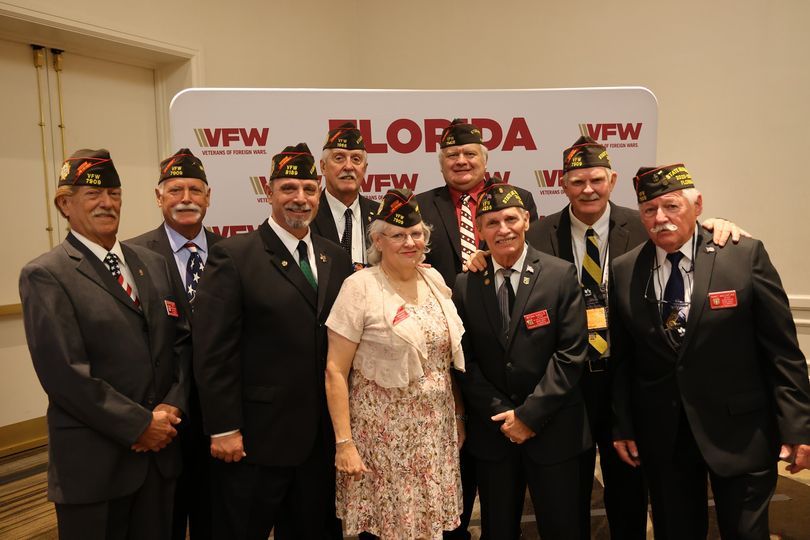 2021-2022
VFW DEPARTMENT OF FLORIDA
STATE OFFICERS
2021-2022
VFW Department of Florida State Commander
Dani Hernandez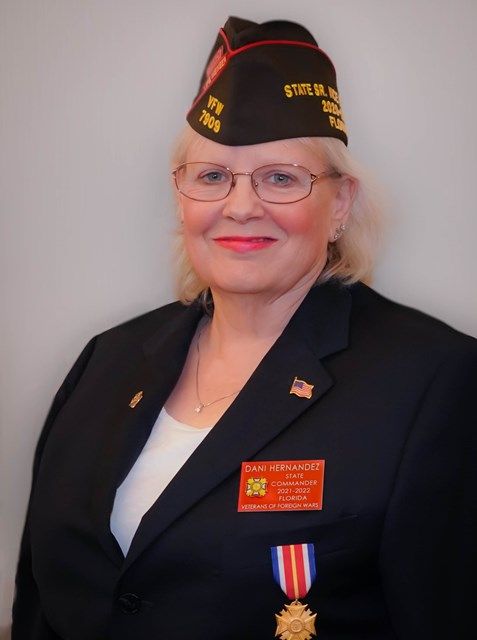 "Soaring to New Heights"
*** CLICK THIS LINK TO DOWNLOAD OUR STATE COMMANDER'S PICTURE. "DOWNLOAD TO YOUR DECKTOP TO PRINT"
This marks the start of a new chapter in the History of the VFW Department of Florida. A new year with new leaders, but our goals and objectives remain the same. "To Honor the Dead, by Helping the Living" are more than words. They are a commitment that every member and every Post has made to the veterans and their families that we serve.
To achieve this goal and the many others we have, we will need to soar to the greater heights that is instilled in each of us. We will need to learn to rise above the everyday struggles and keep focused on the mission.
No one can predict to what heights we can soar together. With a growing number of males and females in the VFW and Auxiliary, we need to respect each other inside and outside the VFW. We need to reach out to our members and those eligible to ensure that everyone is welcomed into our family of veterans.
As we begin writing our chapter for the 2021-2022 year, we need to unite as one. What will be written over the next year will depend on each of you. This team of Officers is ready to soar, so get onboard with what will be an exciting year of service to our communities, our youth, our veterans and their families. While doing all of that, we need to provide compassion, love, understanding and inclusiveness.
These are our challenges, but by "Soaring to New Heights", we can achieve all of it.